Firm Overview
Wimberly, Lawson, Steckel, Schneider & Stine P.C. is a national law firm exclusively representing and advising management clients in all practice areas related to labor and employment law. The firm's clients range from Fortune 500 companies to small and medium-sized companies.
Clients include food processors, manufacturers, associations, educational institutions, retailers, transportation companies, hotels/motels, restaurants, amusement groups and other hospitality enterprises, public employers (including county and city governments) and construction companies.
The firm maintains its main office in Atlanta, Georgia. It has a branch in Athens, Georgia. The firm is an affiliate member of the Wimberly & Lawson Network. Other members include Wimberly Lawson Wright Daves & Jones PLLC, based in Tennessee (with offices in Nashville, Knoxville, Morristown, Cookeville, and Chattanooga), Wimberly, Lawson & Daniels based in South Carolina (with offices in Greenville). 
The firm's attorneys strive to prevent clients from experiencing legal problems. It conducts audits of clients' human resources policies and practices, safety and health compliance, employee handbooks, written forms and notices, employment applications, performance appraisals, orientation programs, compensation policies and procedures, harassment policies and complaint procedures, affirmative action plans, recruitment and hiring procedures, standards of conduct, leave of absence procedures, and discharge and discipline policies.
The firm also conducts many types of management training programs, including union avoidance, lobbying efforts, equal employment opportunity and affirmative action obligations; maintaining work environments free of harassment, violence, and substance abuse; investigating and remedying claims of harassment or discrimination; alternative dispute resolution and internal mediation to avoid litigation; reasonable accommodation of employees with disabilities; handling corrective action and discharge issues; compliance with safety and health policies; and executive/management development.
The firm also offers sophisticated litigation services to clients. It defends employers against all types of discrimination and wrongful discharge claims, administrative law matters, including EEOC, NLRB, DOL and Davis-Bacon issues, as well as more complex litigation involving class actions, trade secrets, tax, pension and benefit issues. The firm also successfully represents clients in union organizing campaigns.
The firm strives to deliver the highest quality legal service in a timely, cost effective and ethical manner. Its attorneys keep abreast of the latest developments in labor and employment law by writing legal texts and articles geared to human resources executives, attending legal education courses, and delivering seminars before numerous national, regional and local organizations. They share their legal knowledge with clients through our periodic "Alerts," the monthly newsletter and the annual Labor Relations & Employment Law Update Conference.
The firm invites you to contact any of its attorneys concerning any labor and employment law questions or issues. 
Locations
Atlanta
3400 Peachtree Road
Suite 400
Atlanta, GA 30326
404-365-0900
404-261-3707 fax
Athens
357 Hill Street
Athens, GA 30603
706-543-5992
706-543-7219 fax
South Caroliona
Wimberly, Lawson & Daniels, LLC based in Greenville, SC
Wimberly Lawson Wright Daves & Jones, PLLC
Atlanta Office Directions
The firm's Atlanta office is located on the fourth floor of the 3400 Lenox Towers building, located on Peachtree Road directly across from Lenox Square Mall.
If you're going north on Peachtree Road from Midtown Atlanta, take a left at the second traffic light past the Buckhead MARTA station. If you're going south on Peachtree Road, cross Lenox Road and take a right at the second traffic light. The building driveway is marked as the "Lenox Towers Main Entrance."
Go down the ramp into the parking garage. Get a parking pass and park your vehicle in the visitor spaces. Enter the 3400 Building.
Atlanta Office
Lenox Towers, Suite 400
3400 Peachtree Road, N.E.
Atlanta, GA 30326
404.365.0900
Practice Areas
The firm offers a full range of services in all practice areas related to labor and employment law.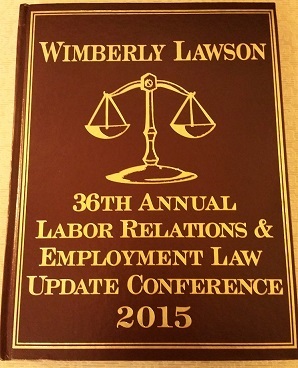 Employment Practice

Administrative Law

Affirmative Action Programs and Policies (AAP)

Age Discrimination in Employment Act

Alternative Dispute Resolution

Americas with Disabilities Act (ADA)

Audits, Employer

Contract Administration/Negotiation

Equal Employment Programs and Policies (EEO)

Employee Benefits

Employment Law Training — State and Federal

Labor Law Services

Arbitration, Mediation and Alternative Dispute Resolution

Collective Bargaining

Election Campaigns

Industry Trend Analysis

Litigation — Management Defense

Litigation Avoidance

Plant Closing

Union Avoidance — "Union Free" Policies and Programs

Union Organizing

Litigation Practice

Defense of Employment claims in all state and federal trial and appellate courts, including

Discrimination, including claims under Title VII, the ADEA, FMLA, and ADA

Harassment
ERISA
FLSA
OSHA
Intentional infliction of emotional distress, negligent hiring/ retention
Wrongful termination
Non-competition, Non-solicitation, and Non-disclosure covenants
Other state law tort claims

Commercial Litigation

Contract claims
Unfair business practices
Various uniform commercial code matters
RICO

Litigation Avoidance

Advice and Consultation regarding specific contemplated employment actions
Policies and Procedures Audit
Internal discrimination or harassment investigation
Supervisory and Non-Supervisory Training
Diversity Training and Consultation

Alternative Dispute Resolution

ERISA

Executive/Management Development and Training

Executive Compensation

Fair Labor Standards Act

Family and Medical Leave Act

Federal Contracts

Government Contracts

Health Insurance

Hiring and Firing Practices

Immigration and Naturalization

Industry Trend Analysis

Legislative and Regulatory Impact Analysis

Litigation Avoidance

Litigation Defense Management — All Forums

Lobbying

Management Leadership Training

Non-competition and Non-disclosure

Occupational Safety and Health Act — Audits • Litigation • Policies and Practices

Pattern and Practice Discrimination Defense

Personnel Programs and Policies

Plant Closing

Regulatory Compliance and Regulatory Impact Analysis

Retirement Plans

Substance Abuse and Drug Testing

Unemployment Compensation

Wage & Hour— Audits •Employee Status Review • Litigation • Payroll Guidelines

Workers' Compensation